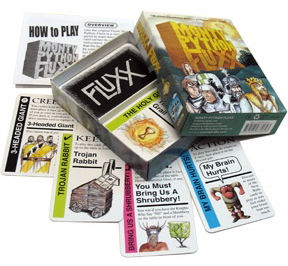 Serendipitously coinciding with the release of The Complete Monty Python's Flying Circus 16-Ton Megaset, Looney Labs has added a Monty Python themed edition to their popular Fluxx card game series.
It's Monty Python Fluxx — the card game where it's fun to make your brain hurt.

Get a shrubbery for the knights who say NI! Build a giant wooden rabbit! And since it's Fluxx, you can expect the rules to constantly change… but don't expect the Spanish Inquisition!
Monty Python Fluxx is based mainly on Monty Python and the Holy Grail, but squeezes in a number of fan-favourite references from Flying Circus and the other movies. There are 100 cards in the set, laden with colourful illustrations of such iconic Monty Python jokes as the Coconut-Laden Swallow, the Finger of God, the Ex-Parrot, the Holy Hand Grenade of Antioch, and the Legendary Black Beast of Aaarrghh. (Sadly, Spam and Fish Slapping cards are absent.) Most entertaining of all are the "What is Your Quote?" and "I Want to Sing!" cards, which turn a player's trivial ability to quote lines and sing songs from Monty Python into a game-winning asset.
"The random and chaotic nature of the Fluxx engine makes it a perfect vehicle for the crazy world of Monty Python!" enthuses Looney Labs. "Fluxx is the perfect medium for the group that brought us Something Completely Different at every turn." The company further says, "Yes, that crazy card game where the rules keep changing has joined forces with Monty Python to create the Looneyest card game ever! Help King Arthur and his Knights find the Holy Grail. Bring a Shrubbery to the Knights Who Say Ni! Lob the Holy Hand Grenade at the Killer Rabbit with Nasty Big Teeth! Just do it quick, before the Goal changes again!" This is clearly a game that no Monty Python fan should be without.
In addition to the game, Looney Labs offers a poster that's "an awesome composite of the cover art and other elements from Monty Python Fluxx, including the catapult, the cow, and the Trojan Rabbit." The 11×17 inch poster was included free with games pre-ordered directly from Looney Labs, but is now available for anyone to purchase through Looney Labs' Web Store.
Monty Python Fluxx supports 2-6 players, ages 8 and up. Game length: 10–40 minutes.
Order now at Amazon.com:
Monty Python Fluxx
Or order directly through the Looney Labs website.
Monty Python Fluxx is distributed by Looney Labs, published under license with Toy Vault & Monty Python. For more information on Monty Python Fluxx, visit the official product page at Monty Python Fluxx.