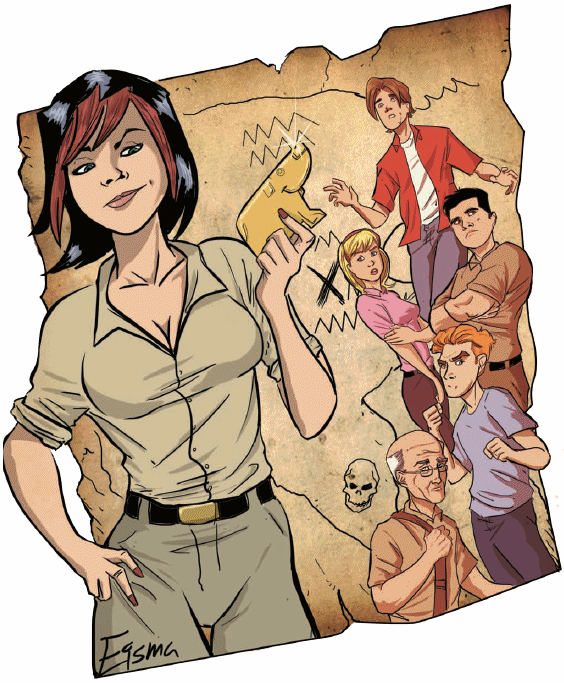 Arcana Studios (the studio behind the critically acclaimed The Clockwork Girl and Paradox, both of which are in various stages of production to feature films) has a new addition to their action adventure comics. Wonderdog, Inc. is an all-ages story in the vein of classic adventurers like Allan Quatermain and Indiana Jones.
Ryan Robertson is an average teenager from a boring family. He isn't really popular or especially gifted, but he's got a best friend who's always there for him and a really hot girlfriend who seems to be way out of his league. Just as school is getting out for the summer, he learns that his parents are going on a trip to Europe, and now, instead of hanging with his friend or getting cozy with his girlfriend, he's got to go spend the summer with his loony old grandfather. Spending the summer at the farm isn't exactly his idea of excitement, but soon after arriving he finds himself with his hands full of more excitement than he can handle.
Turns out grandpa isn't as crazy as Ryan thought he was, and his parents aren't exactly on a vacation in Europe. He and his grandfather end up on an adventure in Bolivia in search of the Fountain of Youth. Along the way, they face dangerous thugs and a villainous vixen as Ryan gets caught up in, learns about, and becomes a part of his family's secret life.
Wonderdog, Inc. was created and written by Scott Zirkel (A Bit Haywire, Josh Howard Presents: Sasquatch) and illustrated by Matt Hebb (Harry Walton: Henchman for Hire). At 122 pages, this comic is full of great artwork, high adventure, lots of humor, and even a little romance. The story is exciting and uncomplicated enough for any kid to enjoy, yet appealing to adventure-loving grown-ups, too.
The artwork is straightforward, like you find in the classic comics of the 70s and 80s, not the flat, lifeless smears of color and blocky lines that are prevalent in other comics these days. It complements the story well, especially the first part of the book, which is done in sepia tones (because it takes place over 50 years ago) like you might find in a flash-back scene in a movie. I think it's a really great touch.
As a special bonus, the back-matter of the book includes not only illustrated bios of the writer, artist, letterer and inker, but some great pin-up art in various artistic styles, if you are so inclined to decorate your walls with them. I'd recommend getting two copies if you want to do that, though, because you will probably want to re-read it or pass it on to a friend.
Overall, I found Wonderdog, Inc. to be very entertaining and fun. Even though I hadn't planned to read it all in one sitting, once I started reading it, I just couldn't stop. If you like good old-fashioned adventure comics, or you're looking for something safe to give to younger readers just developing their love of comics, I recommend that you pick up a copy of Wonderdog, Inc.
Wonderdog, Inc. is available at your local comic book store or Amazon.