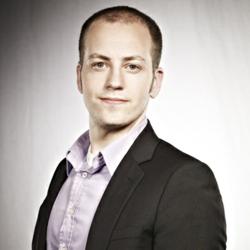 Halo and Riese Webseries producer appointed by Retrofit to lead original content team.
Retrofit Films, an award-winning digital production company, announces that Ryan Copple has joined the executive management team as VP of Digital Development. Copple brings to the company an expertise in digital series development, strategy and production with partnerships at BBC Worldwide, Syfy, E One, Muse Entertainment and Content Media, among others.
"Ryan's breadth of experience in interactive content development and monetization launches Retrofit Films into our next stage of growth," says Retrofit's co-founder Chris Hanada. "We're very excited to expand our own stories by building on our experience creating digital, cross platform, branded entertainment for existing franchises with the studios and networks."
Ryan's background includes co-creating and executive-producing the critically acclaimed sci-fi webseries "Riese: Kingdom Falling" whose rights were picked up and licensed worldwide by the Syfy Network's digital arm before the project crossed media boundaries with a spin-off iPhone game and prequel novel published by Simon & Schuster.
Most recently Ryan completed co-producing Microsoft's highly-anticipated webseries "Halo 4: Forward Unto Dawn" for Machinima before relocating from Vancouver to Los Angeles. "Innovative content coupled with equally innovative strategy is the future of traditional and new media companies," say Copple. "A company with Retrofit's pedigree is primed to bridge the gap between traditional and new media, and I'm thrilled to be a part of that evolution."
"Ryan is here to really light the fire under our own intellectual properties," says Retrofit co-founder Tanner Kling. "We've produced two original series in the past year, but bringing him into the fold signals a full-throttle dive into our development slate of original projects and our company's continuing emphasis on creating strong strategic partnerships in the digital landscape."
About Retrofit Films
Retrofit Films is an award-winning digital production company founded in 2004 by Chris Hanada and Tanner Kling. The company has a history of producing multi-platform stories and experiences for global brands, television networks and Hollywood studios with franchises such as FRINGE, HOUSE MD, HEROES, and THE VAMPIRE DIARIES.
For more information, please visit us at http://www.retrofitfilms.com