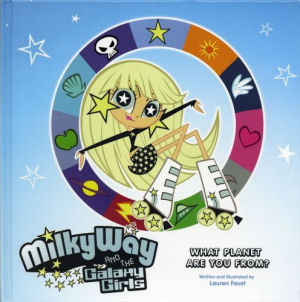 Milky Way and the Galaxy Girls, a website dedicated to the positive promotion of girl power, presents Milky Way and the Galaxy Girls: What Planet Are You From?, a picture book written and illustrated by site creator Lauren Faust.
Meet Milky Way and her intergalactic entourage, the Galaxy Girls! Each girl is named after some heavenly body, and none are afraid to be as individual as every star in the sky. With 11 girls in this celestial sorority, there's bound to be one you can bond with. You may be a total hottie, sizzlin' with solar power like the Sun. Or like Pluto, a rockin' rebel who rejects demeaning labels like "Dwarf Planet." Perhaps you're an orbital oddball, like artistic, green-skinned Mars. Or a kind-hearted environmentalist with a soft spot for cute animals, like Jupiter. Read on, for this book is your personal guide to the girlaxy, and with a little personal insight you can find out… What Planet Are You From?
Independently published in 2007, What Planet Are You From? is a professional effort that deserves a much wider audience than it's received so far. Like Neil Gaiman's Blueberry Girl, it's a refreshing alternative to the sea of pink, glittery, substance-free fluff that currently floods the bookstore shelves reserved for young girls. Fashioned in the style of an astrology guide, this small hardcover encourages girls to think about who they really are, not just who society and the media tells them they should be. As Faust writes on her website:
What do girls like? The first things that come to your mind may be: clothes, hair, make up and fashion. And you would be right. Most girls DO enjoy these things, and it would be foolish to ignore that fact. But who only likes one thing, right? The world often forgets that girls love art, sports, music, culture, animals, learning… the list is infinite! And, sadly, sometimes girls forget that, too. So why can't girls be cute, stylish, cool, AND smart, empowered and a little different?

They can. Milky Way and the Galaxy Girls offers the best of both worlds for girls. Fun with trendy, funky clothes and hair styles AND a wide variety of personalities, nationalities and outside interests. Each character has a specific activity she loves and accessories and wardrobe that correspond. They are each individually adorned with a personal symbol and color scheme that define her and her life style.

So, there's a girl for everyone! All you have to do is figure out… What Planet Are You From?
Faust worked on the popular cartoon series The Powerpuff Girls, and its visual influence can clearly be seen in the brightly-coloured and dynamic art of What Planet Are You From? Elements of Rainbow Brite and Sailor Moon give the simple yet iconic designs a touch of cheerful nostalgia, as well. The eleven Galaxy Girls — Milky Way, The Sun, Mercury, Venus, The Moon, Mars, Jupiter, Saturn, Uranus, Neptune, and Pluto — are given four pages apiece to tell their stories. (Earth is absent from the book since Lauren Faust fills the role of "Mother Earth" on the Galaxy Girls website.) Biographical information is listed on a two-page spread, with the name and picture of the described character splashily revealed when the page is turned. Nearly blank backgrounds allow readers to imagine whatever setting they desire. The book would make a memorable reading activity at a slumber party and, as an added educational bonus, can be used to help teach budding astronomers about the celestial objects that make up the solar system.
What Planet Are You From? is a stellar gift for girls of all ages, delivering a message that every child should take to heart:  "Remember, there may be millions and millions of stars in the girlaxy, but each and every one is astronomically awesome and unique… and you are too!"
Once you've joined the Solar Sisterhood, proclaim your choice of Galaxy Girl mentor by picking up a t-shirt, poster, postcard, sticker, button, or patch at the online shop, and visit the Etsy shop where Faust sells handmade plush art dolls of the girls featured in Milky Way and the Galaxy Girls: What Planet Are You From?
Order now at Amazon.com:
Milky Way and the Galaxy Girls: What Planet Are You From?
Or order directly through the Milky Way and the Galaxy Girls website.
Milky Way and the Galaxy Girls: What Planet Are You From? is distributed by My Firefly. For more information on the book and its author, visit the official Milky Way and the Galaxy Girls website and its related Facebook and MySpace pages. Lauren Faust may also be followed on deviantART and MySpace.