"Play is discovery and exploration, and joy, and growth, and learning, and so much more," explains Manhattan Toy. "And for us play is serious work. So when we bring play to life, we do it with a commitment to the finest in craftsmanship and creativity. All of our products, from the newest concepts to our time-tested classics, are innovatively designed to inspire imaginative play and delight our consumers large and small." For the company whose motto is "Imaginations at Play!" the three essentials of toy creation are Originality, Developmental Value, and Quality & Safety:
Founded in 1979 by Francis Goldwyn (grandson of motion picture studio owner Sam Goldwyn), Manhattan Toy pioneered the use of non-traditional fabrics in toy design and introduced delightful new body styles in soft toys. Although Goldwyn is no longer involved in the ownership of Manhattan Toy, we remain true to his vision of marching to the beat of a different (toy) drum.

Play is not only fun, it's essential to a child's cognitive, emotional, and social development. Our design process blends science and whimsy to produce toys that offer children a rich array of visual and tactile stimulation and unlimited opportunities for imaginative exploration.

Our unsurpassed quality standards ensure that our toys are both durable and safe. Prior to manufacture, each Manhattan Toy design is thoroughly tested to comply with the most rigorous international standards for children's products. Our quality assurance team continually reviews designs and procedures to ensure that products exceed both existing and new safety regulations.
In addition to making heirloom-quality toys, Manhattan Toy strives to be a socially conscious company. They teamed with the Girl Scouts to donate more than 60,000 Groovy Girls brand dolls and plush toys to the youngest survivors of Hurricane Katrina, and have created the Girl Scouts' own line of Troop Groovy Girls dolls, which celebrate the empowerment of girls and were voted "Girl Toy of the Year" in 2008. In the realm of science, they promote awareness of the natural world by padding their zoo of plush animals with alternate choices to the traditional bears and bunnies. One of these animals is the critically endangered cheetah, which is on the International Union for Conservation of Nature (IUCN) list of vulnerable species. According to the Cheetah Conservation Foundation, there are only about 10,000 cheetahs left now. Like Manhattan Toy, the CCF recognizes the importance of inspiring children to connect with nature, reaching out to tomorrow's scientists and conservationists with their Kids4Cheetahs program.
Manhattan Toy currently offers two plush cheetahs, one of which is the Lanky Cats Cheetah. "Big, curious, yellow eyes standout on this loveable cheetah," says Manhattan Toy. These eyes, a signature of the Lanky Cats collection, really are mesmerizing, seeming to follow a person's every movement. In half-light, they glow green and shimmer like a real cat's would at night. Also true to life, and thanks to heavily weighted paws, the Lanky Cats Cheetah can drape lazily over objects, dangle like the "hang in there" kitty, crouch in a ready-to-pounce stance, or be contorted into any other feline shape. "His understuffed, extra long body makes him incredibly poseable. He's made out of a silky, soft fabric that begs to be petted." Best of all, though, the cheetah markings on this toy are accurate. Many items marketed as cheetah-print are actually a leopard pattern; leopards and jaguars have rosette markings rather than the cheetah's simple spots. Kudos to Manhattan Toy for the attention to detail!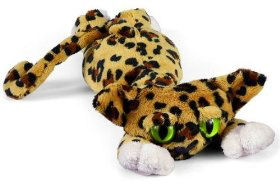 The other cheetah toy is the colourful Cha Cha Cheetah, a Petrageous Pet from Manhattan Toy's popular Groovy Girls line. Cha Cha is stylishly dressed in an outfit and "bone" hair bow that looks like it was borrowed from baby Pebbles of The Flintstones, and will appeal to little girls who love the Groovy Girls dolls. She's incredibly soft, with weighted, oversized feet that make it easy to pose her, and the velcro fasteners on her removable vest and collar make changing clothes simple for little fingers. Trendy Groovy Girls Fashions and Furniture & Accessories are available for additional dress-up fun.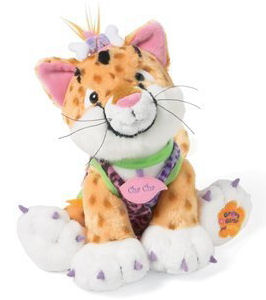 In the name of scientific exploration, Manhattan Toy even replicates long-extinct animals, like the Mesozaurs Stegosaurus. "Bright green with contrasting orange plates and blue tail spikes, the Stegosaurus is one of the most colorful dinos you'll find. He's soft, cuddly and highly textured for tactile appeal. With loads of prehistoric personality, he'll come to life in any youngster's hands." The Mesozaurs Stegosaurus is an amazing piece of craftmanship. Unlike most statically posed stuffed dinosaurs, Manhattan Toy has designed their dinosaurs in dynamic action poses. The Stegosaurus' tail is whipped to one side, ready to strike, its head angled in the opposite direction, warily alert of predators. The fabric used for its plumply stuffed body is roughly patterned and textured like cut velvet to suggest a scaly hide, the orange back plates are made of a sheer material that's ridged to look like bone, and the toenails and tail spikes are shiny black and blue vinyl, with little inserts of lavender and blue material for the eyelids and mouth. It's hard to stop running your hands over this sumptuous toy.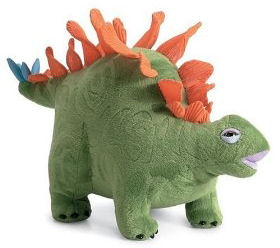 While the Stegosaurus is the expected dino-green colour, the rest of the Mesozaurs Dinosaurs — a red Brontosaurus, blue T-Rex, and orange Triceratops — are a vibrant rainbow that reflects modern science's theory that dinosaurs were likely as diverse in appearance as the animal species of today.
For fantasy and mythology lovers, Manhattan Toy also has a range of plush Dragons (wizard included) and Dr. Seuss characters. Whatever your plushy passion is, Manhattan Toy fulfills your wishes with top-notch playthings that are beautiful to look at, irresistible to touch, and fun to play with.
Order now at Amazon.com:
Lanky Cats Cheetah
Cha Cha Cheetah
Mesozaurs Stegosaurus
Or order directly through the Manhattan Toy website.
Lanky Cats Cheetah, Cha Cha Cheetah, and Mesozaurs Stegosaurus are distributed by Manhattan Toy.